The Exercise Clinic provides Chronic Disease Management and Exercise Physiology Services specialising in the management, rehabilitation and prevention of chronic and complex conditions.
Our collaborative approach aims to support individuals to achieve and maintain lifestyle habits which optimise health and quality of life.

Our Exercise Physiology and Chronic Disease Management Services include:
Physical and functional assessment
Monitored exercise programs in a safe and supportive environment
Lifestyle modification and self management support
Behavioural modification strategies
On-going review consultations
Regular communication and reporting to medical professionals

---
The Diet Dilemma(SMH)
A Few Diet Truths
---
CHALLENGE

The Exercise Clinic, Royal North Shore Hospital and the University of Sydney have teamed up in the worldwide CHALLENGE study to assist sufferers of Colon Cancer. The Exercise Clinic will be providing exercise,activity programs and education in their role as Physical Activity Consultants (PAC's).
---
"My physiotherapist gave me lots of exercises to do, but I was non-compliant at home. This Clinic has staff to organise the program and equipment to enable it to happen under the one roof"


(Dr) Louise H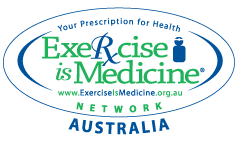 Exercise Is Medicine Initiative Launched at GP Network!


Our Contact Details:
Suite 2, 375 Pacific Highway
Crows Nest NSW 2065
Phone: [02] 99222201
Fax: [02] 99227800
Email: admin@theexerciseclinic.com.au
Our Brochure:
For more information about us, a copy of our brochure can be downloaded HERE
Referrals:
For Medical Practitioners a copy of our referral form can be downloaded by clicking: